Farm Membership - Teikei (CSA)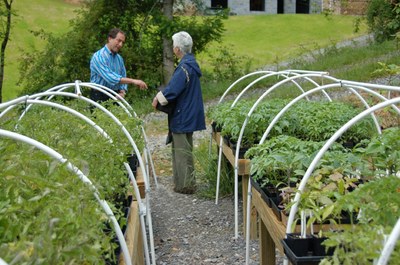 We are currently not offering shares in 2014. Please email us at seeds@appalachianseeds.com for more information.
We offer an opportunity to "join-up" with us in our farming venture through membership in our form of a CSA called Teikei. This was the original "CSA" developed in Japan some years ago. CSA stands for Community Supported Agriculture and Teikei means "cooperation" or 'join-up"...or more literally in this sense, "food with the farmer's face on it". Seasonally, we offer our members fresh produce, culinary herbs, and cut flowers. See our Fruits and Vegetables and Herbs and Perennials pages to get an idea of the crops we grow. In the early season, members will typically get salad mix, tendergreens, snow peas, beets, green onions, swiss chard, kale...by mid season we will have tomatoes, peppers, squash, zuchini, corn, carrots, cucumbers, okra, snap beans, herbs, edible flowers, cut flower bouquets...and late season will bring salad mix and greens again along with pumpkins, cabbage, potatoes, garlic, herbs, tomatoes and winter squash. You'll get to appreciate not only the freshness, but the seasonal nature of locally grown food as well, and will be on your way to becoming a "Locavore".
The season runs for 6 months from May through October. Members are encouraged to visit the farm and to join in whenever they desire. Teikei is all about building relationships with each other and our food.
We have 2 membership levels.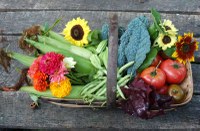 A Large Family CSA Membership is $600.00 for the 6 month season payable in advance. That's $25.00 a week for the freshest farm products available. We also offer a Small Family or Individuals CSA Membership at $300.00 (only $12.50 a week!) You can pay the entire amount in advance by using the paypal buttons below...or you can send a check if you'd like. We can also offer you the option of paying 1/2 in advance and 1/2 at the beginning of the season if you pay by check. We know you'll be more than satisfied and we look forward to "growing with you". Please feel free to contact us by email for more information. Only a very limited number of CSA members will be accepted on a first come-first serve basis.