Open Pollinated Bedding Plants
Heirloom vegetables and flowers, culinary and medicinal herbs, edible landscape plants available in the Asheville/Hendersonville/Black Mountain area and at Spring Plant Festivals in the Asheville region.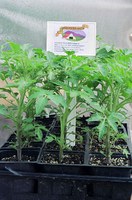 We are well known around the area for our great selection of CERTIFIED ORGANIC healthy, hardy, bedding plants. We grow them in 4 packs and 3 ½" pots and grow them tough and ready to go in the garden. Most people that try them become regular customers.
Our bedding plants are available at the Hendersonville Community Coop in Hendersonville; Villagers, and the French Broad Food Coop in Asheville; and The Garden Spot in Fairview.
We focus on heirloom vegetables, medicinal and culinary herbs, and edible landscape plants like blueberries, figs, grapes, elderberries, and strawberries. From early spring through autumn, we offer seasonally appropriate vegetables, flowers, and herbs. Everything from arnica to schizandra, artichoke to zuchini, ageratum to zinnia!!! We love to plant a diverse, delicious garden for ourselves and we make all of our favorite selections available for your gardens as well! Due to the dynamic nature of our business, we are not able to list what each store offers from our plant selection. The availability changes from week to week, and from location to location. Please email with specific questions about availability.
Our Bedding Plant Selection will vary at each location. If your supplier doesn't have what you want let them know.
We look forward to another great year in 2020...serving you with the same quality and selection as always!