Virtual Visit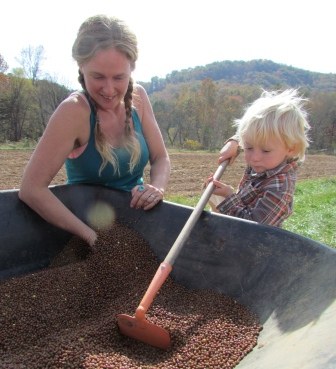 Appalachian Seeds Farm & Nursery is owned and operated by Amy Hamilton, an herbalist, mother and biodynamic/organic farmer who
loves to share her passion for plants with others.
For over 20 years Amy has lived in western North Carolina, working in the fields of natural foods,
alternative medicine, and sustainable agriculture. In the late nineties Amy worked with the esteemed Maya Tiwari, learning about Ayurvedic cooking and
healing. She spent a few incredible years at Gaia Herbs working in all
levels of production. Amy worked for an OMD helping run the office and
apothecary, gaining invaluable experience in Chinese medicine. She also
worked for Dr. Jeanine Davis at NCSU for seven years, assisting farmers
transition into growing medicinal herb crops; marketing these crops; and
with conducting research on medicinal herbs, heirloom tomatoes, other
vegetables, and organic systems. During this time she received her B.S. in
Environmental Science at UNCA with a concentration in ethnobotany. Amy
loves to teach people about growing and using food and medicine and is very
active in the farming community. She has been a passionate advocate of
sustainable agriculture and preserving the natural medicine heritage of
WNC, helping found the Appalachian Botanical Alliance - an herb growers'
cooperative - in 2012. In 2011 she became a full-time farmer with the birth
of her son, who is now a lively 6 year old boy who helps her farm 5 acres in Leicester, NC as Appalachian Seeds Farm & Nursery. Amy is currently enrolled at Pacifica Graduate Institute to earn her master's degree in counseling psychology with the goal of merging her passion for nature and farming with her passion for healing.