Appalachian Seeds - Welcome!
Our 2014 seed crop is almost ready for sale! Stay tuned as we add new varieties from our trials this year. We're so excited to share these delicious 'new' finds with you! Plants will be up for sale soon, for shipment in the spring. This year our PLANTS are
CERTIFIED ORGANIC!!!
Our seeds will be certified organic for 2014! We are in the process of renewing our certification now and should be finished within a month!
We are a small, family farm producing heirloom tomato seeds and plants, eclectic medicinal and culinary herbs, and a diverse selection of heirloom vegetable plants.
We have been growing many heirloom tomato varieties since 1998. Our specialty has always been heirloom tomato seeds and heirloom tomato plants. (see list of tomatoes we grow on the family farm, with pictures and descriptions) Our work with heirloom tomatoes has been featured in Southern Living magazine (May 1999, Timeless Tomatoes), Back Home magazine (Mar/Apr 2002, Grow "Real" Tomatoes) and Blue Ridge Country magazine (July 2004, Meet Mr. Tomato) among others.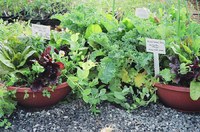 Today we offer many unique and unusual open-pollinated, annual and perennial flowers, culinary and medicinal herbs, and gourmet vegetables (see availability list with descriptions). In addition we are now growing a diverse selection of edible landscape plants including elderberry, blueberries, grapes, and figs in 1 gal containers.
We mainly sell our plants to regional garden centers and organically-minded stores like the Hendersonville Community Coop and French Broad Food Coop, Earth Fare, B.B. Barnes in Arden, along with heirloom tomato seeds and heirloom tomato plants on our website. See bedding plants and tomatoes. We are also at the NC Herb Festival, the first weekend in May each year, at the WNC Farmers Market in Asheville, NC.
PLEASE NOTE: Our heirloom tomato plants are NOT available at Jesse Israel Garden Center this year.